Creative Catering for Your...
Corporate Meetings, Family Gatherings, Exceptional Events, Business Lunches
We know you want to amaze your guests and clients. We can help.
Let's get you started Today!
You Eat First With Your Eyes
If it looks amazing, Your mouth will agree. So, we create catering experiences that excite the eye and generate feelings of…"Oh My…What's Next"?
But planning an event like that can be overwhelming. That is the very reason you should contact us. We can help you plan, execute, and deliver exactly what you are thinking of.
From Planning to Presentation.
Since 1985, Creative Catering, Tucson has earned it's reputation as Tucson's premier off premise catering company. 
We take your initial call or email, and get the details for the event you're planning.
We put together a proposal, based on what we've discussed.
Your date arrives, our staff arrives, sets up, serves or delivers what you are expecting – we are not late – because – we bring the party!
Your party winds down, or your luncheon is over, and we begin our clean up.
When we leave, you realize how stress-free you feel. You wonder why on earth haven't you done it this way before?
That's our job…we want YOU to feel as if you were a guest at your own party. Let's get your started.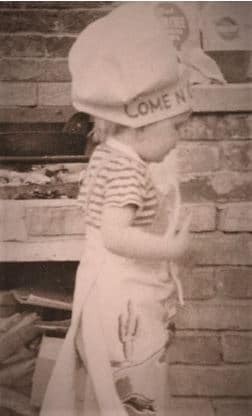 Making food is in our DNA – it truly is !
With the last name of Essenmacher (which means food maker in German), we know we were born to do this. There are no coincidences…
Destined to do this in Tucson AZ? Take a look at MJ's apron  when she was 2 years old living in Michigan. 
Our catering team has designed exciting menus to lift your entertaining and business meetings from out of the ordinary and into the extraordinary. Check out our Creative Catering Event Menus.